Bon Chic Bon Gastronomique is a twist on the French expression bon chic bon genre. This french slang expression literally means "good style, good attitude". However, it usually refers to preppy clothes worn by rich French people.
Gastronomique is a French word that refers to food, and depending on the context can mean "gourmet" or "menu".
Bon Chic Bon Gastronomique means "good style, good appetite". My main goal for this blog is to show how much fun fashion and cooking can be, even for someone on a budget.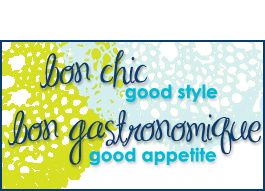 Pin It