Some of my waiting finally paid off this week. Like I mentioned Wednesday, I had a job interview. This is what I wore; hopefully it brought me luck. I think it went pretty well, but I'll have to wait (more waiting, gah!) and see.
Pencil skirts are my go-to for interview attire. With a blazer (which I had to take off immediately following my interview…too hot!) it looks put-together and professional. I kept it from being too stuffy by having fun with color and wearing a funky print.
Also, I got my teaching license in the mail so I can substitute teach again. This outfit would also work for a day of subbing, so it's perfect for today's "back to school" themed Friday's Fancies at Long Distance Loving. The timing worked out: I got my first substitute job of the year today.
Blouse: thrifted J. Crew; skirt: Merona, Target; belt: Old Navy; shoes: thrifted Ann Taylor
What is your go-to look for a job interview?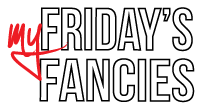 Pin It